Michaels: Make Something Priceless
Michaels is a craft store that has become stale and makes most of its money selling decorations instead of crafts.
SOLUTION: Remind everyone that you can't give something priceless, unless you make it.
*Won a Cannonball from the Richmond Ad Club
OBJECTIVE: Brand Refresh
What is the next step for Michaels? How does Michaels take their brand from a warehouse you can buy supplies and decorations in, to a place people want to visit and interact in?
Half of Michaels' entire sales are made in Quarter 4 by selling premade decorations instead of supplies for homemade crafts.
SITUATION: Premade Over Homemade
The majority of Michaels sales go to premade decorations, particularly at the end of the season when families are decorating their homes for fall and winter and getting gifts together. This is because the people who go to Michaels and craft regularly, do not need to buy any extra materials once fall comes around. It's the Beginner crafters that bump up sales at the end of the year. They wander into Michaels with high hopes of crafting but get discouraged and end up buying things they don't have to assemble for fear of making something bad.
OPPORTUNITY: "I Can't Make That"
The Beginner crafters see things on Pinterest or Facebook and think, "I can't make that." They have a fear of creating something that will be seen as ugly or wasteful. But Beginners do have dreams of crafting, it's just that their fear and lack of experience get in the way and discourage them. If Michaels could help alleviate their fears, they would take up crafting and associate Michaels with helping them conquer their fear.
STRATEGY: You Can't Buy the Memory
We remind Beginner crafters of all the best gifts they've ever received and the memories associated with them. For instance, the frame they made their mom in elementary school that has glitter and macaroni noodles on it. Sure, it's not "pretty" but their mom wouldn't trade it for anything. And that's because the time that was put into making that special gift makes it more valuable than anything they could have ever bought.
CREATIVE: Make Something Priceless
We wanted to reassociate Michaels with crafting and create a space where new crafters felt inspired instead of overwhelmed.
We started by redesigning the in-store layout and updating their already existing app to make it easier for customers to get crafting ideas and find materials they need. We also wanted to create a larger community around crafting at Michaels, and therefore moved the classroom table, generally hidden in a backroom, into the middle of the store and added a small coffee shop so visitors can relax and be inspired with other creative people.
Since Michaels already has an arsenal of bloggers and influencers that they work with, we wanted to make the endcaps call attention to these collaborations by having an influencer create a craft which then would be on display on an endcap with all the supplies needed to make it. This makes it easier for customers to find supplies and for these connections to get more recognition.
Packaging, whether in-store or via mail, was also updated to be easily recognizable as well as showing a focus on crafting.
Employees were even given an update, with a new employee dress code. Instead of red vests that show minimal personality, each employee would be given a new red apron that they decorate, however they want, showing off their crafting specialities as well as their personality. This allows customers to be able to find workers that have skills in areas they have questions about, and helps to create a community of creatives.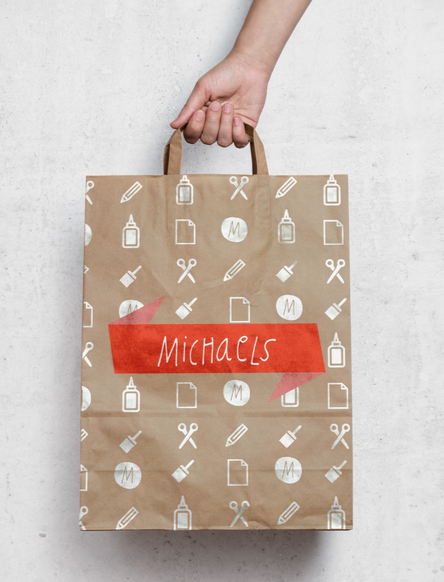 Now that we updated the store, we just need to tell people about it and get them to visit.
The 30 second spot and print ads below focus on reminding customers how important handmade items are and how much more precious they are than anything you can buy premade. The focus on making is to help inspire people to craft and draw them into Michaels, while also reassociating the store with homemade over premade.
Methodology: Store Checks, Focus Groups with Avid and Occasional Crafters, Competitive Research, Craft Store and Coffee Shop Case Studies, Reports on Growing Population of Male Crafters and Crafting Dropoff
Teammates: Michelle Darnell, Will Espinosa, Tori McGoogan, & Stephen Shocket